When you eat, a lot of things happen that are summed up as metabolism. If you are trying to correct a problem like too much fat, well.... It is complicated.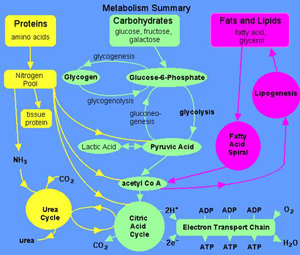 It all boils down to several control mechanisms in your body. If one fails to provide the energy needed, then others compensate. The big three are Carbohydrate Metabolism, Fat Metabolism And Protein Metabolism.

Carbohydrate Metabolism (Aerobic) is controlled by the hormone Insulin. How it does this is complicated. How the circulating level of insulin is matched to the amount of Sugar (Glucose) available is even more complicated. See footnote 2 for more details.

Fat Metabolism (Anaerobic) bypasses the need for Glucose (Sugar) and is controlled by several hormones. The most important is HSL (hormone-sensitive lipase). The blood level of these hormones is regulated by... you guessed it Insulin. There are other hormones that regulate Anaerobic metabolism, but it gets complicated and is not fully understood, especially true for me. However Fat Metabolism can kick in if your blood sugar level is too high or too low. (See foot note). Your body does not want to run out of all energy stores. Fat storage is the last best hope for survival. Your body gives up fat grudgingly and with consequences. The main consequence is a lowering of your BMR (Basic Metabolic Rate). You burn less and store more fat the next meal. It is a vicious cycle.. If you are diabetic, your body will store the incoming, unused sugars, as fat as well! assuming you don't pee it out.. This is why weight control is a real problem for diabetics.
Protein is a much easier target and simpler pathway than fat for energy. When you try to burn fat, your body will start to scavenge protein first, because, the amino acids in your muscle cells are constantly being replaced. They are also easy to cannibalize. If these amino acids are being grabbed in place of sugar or fat, then they will not be available for muscle repair. It is a classic case of use it or lose it. You absolutely need to keep track of protein consumption. You must exercise.
Teddy's Dilemma
My companion dog, Theodore E. Bear, has been trained to detect ketones on my breath. If my blood sugar is high or low, I give off ketones. He wakes me up when he smells ketones on my breath. I check my blood sugar. If my sugar is out of range, he gets a treat. But, what if my blood sugar is normal, What if Teddy is lying because he woke up early and wants a treat? What if the ketones are the result of my diet?
To keep my ketones low and lose weight, there is a sweet spot in caloric intake that is above my BMR level of calories but below the caloric intake that would maintain my current weight. For me my BMR is 1800 calories. I will lose weight below 2500 calories. At the middle, 2150 calories, I burn fat and my ketone excretion is minimal. If Teddy wakes me, then I check my blood sugar, feed him a treat, and we all go back to sleep.